Our Famous
Fruit Tarts
Available in three delicious sizes.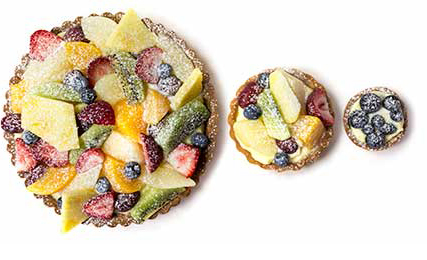 Shortcrust pastry filled with creamy custard, topped with seasonal fruits such as blueberries, raspberries and strawberries.
Fruit Tart – Available in three sizes Large, Medium and Mini.
Lemon Meringue Tart – Sweet Italian Meringue perfectly balanced with our tarte citrus filling.
Mini Caramel & Walnut Tart – Sweet caramel encased in a shortcrust pastry shell. Topped with a toasted walnut.
PLEASE NOTE:
If you are placing a large order, please refer to our Corporate/Large Order Price List.